Build Your Ranger Buckle Set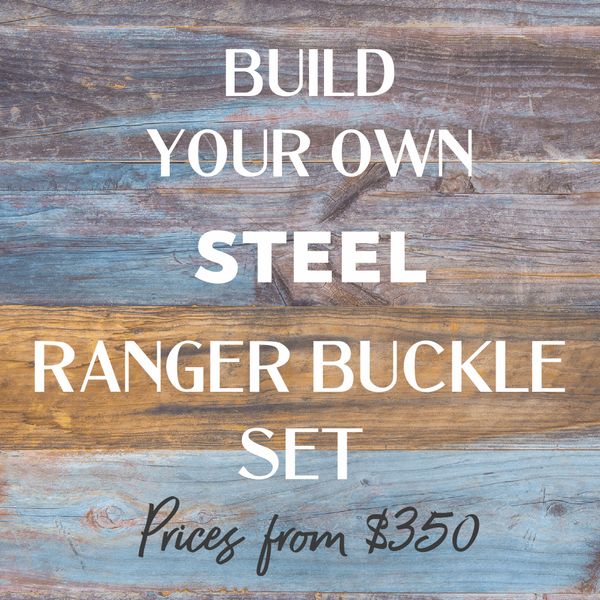 (New orders ship between 7/30 - 8/16)
Customize your two-piece steel ranger set (option to add a belt tip to make it a three-piece set available):
Information for filling out boxes:
Choose your buckle shape - A picture of each available buckle shape, with measurements, is shown in the third picture. Buckles fit 1.5" width standard belts.
Style of Metal for buckle sides - Examples and descriptions are shown in the fourth picture.
Metal to use for buckle sides - Examples of the metal choices (nickel, copper, brass, sterling silver) are in the fifth picture.
Metal for your brand or initials on buckle - You can select the same or a different metal for your brand/initials than what you selected for the sides of the buckle.
Background around brand - Optional. You can opt to add engraved scrollwork or a basketweave pattern to the area around your brand. If basketweave is selected, it will also be engraved on the keeper, unless otherwise requested. Examples in sixth picture. 
Keeper information - Keepers are steel with engraved scrollwork. If you want the steel front covered with another metal before engraving, that option is available in the drop-down box and is an additional cost. If you want a steel keeper with initials or other small motif, that option is also available in the drop-down box and is no additional cost. 
Hardware for buckle - We offer the buckles with a traditional tongue, or you can also select a hook instead. See seventh picture for images.
Optional: Add a Tip to make a 3-Piece Ranger Set -  We offer the option of a buckle, keeper and belt tip 3-piece ranger set. 
Other Information - Please provide here any initials or other information we need to complete the buckle. Brand or logo pictures/drawings will have to be emailed to us. There is no capability to attach pictures here.  Email pictures to bluegrassengraving@gmail.com