Build Your Traditional Style Belt Buckle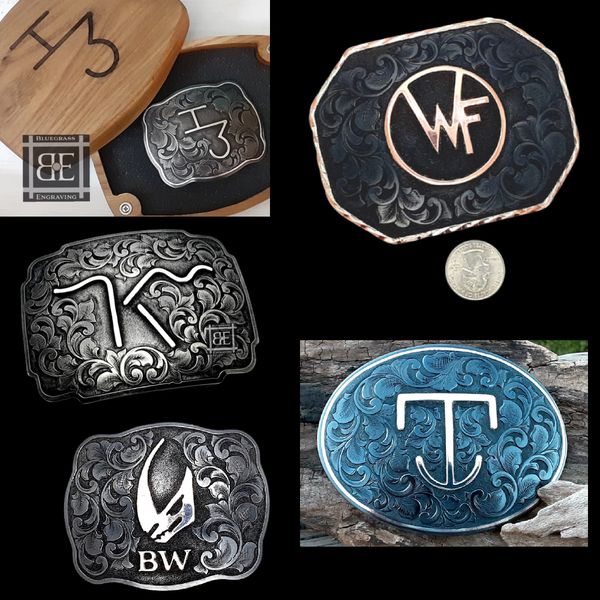 Description/Instructions (See current lead time in Box 1):
Customize your traditional-style belt buckle - (see information below for filling out drop-down boxes - feel free to email with any questions or if you want something different than the options we show). 
Exclusively for single buckle orders of $500 or more, your buckle arrives in a complimentary heirloom quality presentation box, engraved with the same brand, logo, or initials that we put on your buckle.
Box 1 - Time frame your order will ship
Box 2 - Choose your buckle shape - See 3rd picture. A picture of each available buckle shape, with measurements, is shown here. Buckles fit standard 1.5" belts. Message us if you need the hardware customized for a different width belt.
Box 3 - Metal for overlaid brand/initials/design - See 4th picture. Your choice of copper, brass, or sterling silver overlay. Brands or initials are included. Please email us to discuss more elaborate/extensive overlays and/or lettering.bluegrassengraving@gmail.com  Large designs/additional lettering will be an extra cost. 
Box 4 - Style of border on buckle - See 5th picture. Choice of standard option - (engraved line border), or engraved rope cut border, or twisted wire rope border (only available on specified shapes). 
Box 5 - Additional Information  -  Click this box to provide any additional information necessary to complete your order. For personalization, include initials here. If your personalization is a brand, EMAIL us a clear picture or drawing (and ensure picture is oriented correctly) to http://bluegrassengraving@gmail.com.  Pictures cannot be attached here.  Please email us if you have any questions or concerns before ordering.
Click this link to purchase an inscription/personal message engraved on back of buckle: ADD INSCRIPTION