Custom Men's Western Belt Buckle, Personalized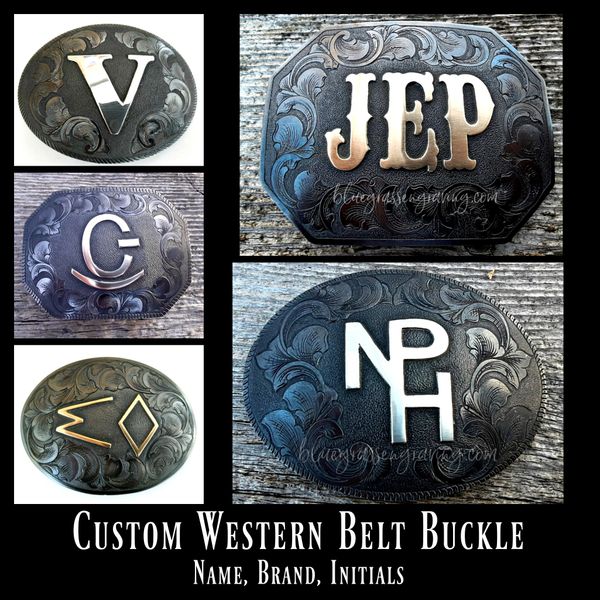 Western style belt buckle with beautiful sculpted scrolls that draw the eye
Available in clipped corner, rectangular, or oval buckle shape
Buckle is approx 4" across x 3" H
Sturdy hardware fits up to 1.5" belt
Your initials, name, etc. overlaid in sterling silver, copper, brass, or nickel
Optional engraved inscription on back of buckle for gift-giving
This eye-catching custom belt buckle features flowing relief-engraved scroll work, which provides a rich dimensional effect to its western-infused appearance. Your buckle is personalized with name, initials, cattle brand, or other design, meticulously hand sawed from the metal overlay of your choice (sterling silver, copper, brass, or nickel).  
We offer several buckle shapes to choose from, including clipped corner, oval, and rectangular.  Further customization is available with your choice of border. A hand-carved line border flows smoothly around the edges of the steel buckle and frames it nicely. You may also opt to have an engraved rope border instead. This requires a bit more engraving work, but artistically showcases the craftsmanship of your buckle.  

For gift giving, we also offer the option of adding a meaningful personal message (inscription) to them hand engraved on the back of the buckle. This option is available from the drop-down box. Email us with any questions to bluegrassengraving@gmail.com.