Masonic Ranger Belt Buckle Set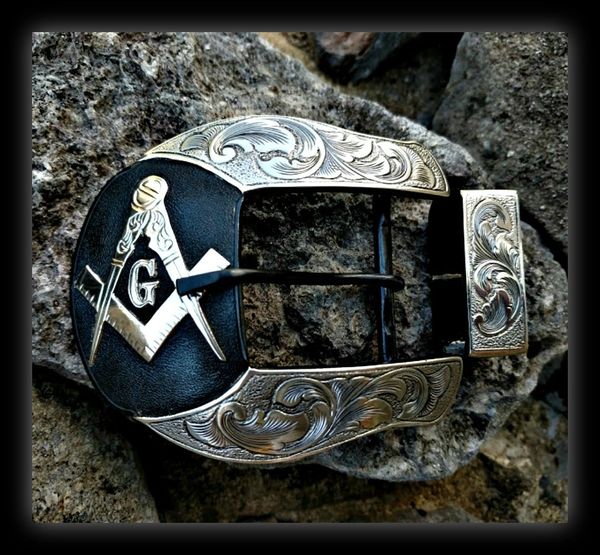 Box 1: Estimated lead time - Our orders are completed in the order they're received. The lead time is our best current estimate of how long it will take to complete the orders already in line, plus your order. We take our time with each order to ensure our clients receive a quality-crafted and reasonably priced item. We do our best to stay on schedule, but occasionally may need to extend processing times. If you must have your item by a specific date, contact us prior to ordering to ensure your time frame can be met.
Box 2: Shape of Buckle - Your choice of 6 steel buckle shapes. Our buckles fit 1.5" belts. See options in last picture and select corresponding number from drop-down box.
Box 3: Metal Overlay for Buckle - We offer four metal options for the Masonic emblem and overlay on sides (brass, nickel, copper, or sterling silver)  If you want to mix the metals (for example, nickel sides with copper or brass Masonic emblem), please note in Additional Info box.  
Box 4: Information for Keeper - Your belt keeper comes engraved with scrollwork. If you prefer your initials, a cross, a star, or other small motif overlaid in metal, please choose from the drop-down box. Please enter custom information (initials, etc) in Box 9.
Box 5: Style of Engraving - Buckle set comes with standard engraving. Optional relief engraving available (see pictures marked Relief Engraved for examples) $75.  Relief engraved scrollwork has the background cut away, which makes the design more dimensional and stand out.
Box 6: Engraving behind brand - Buckles come with no engraving in the area behind your brand or initials. Add engraved scrollwork here, if desired. $45.
Box 7: Hardware on Buckle - Please specify if you prefer a hook or tongue.
Box 8: Optional Inscription - An engraved inscription/personal message may be added to the BACK of the buckle. Max of 40 characters. $30.
Box 9: Any Additional Information - Please use this box to provide any specific information we need to complete your order (ex. Initials for keeper, or to specify mixed metals for overlay - i.e. nickel for sides/brass for Masonic emblem).