Sterling Silver Cattle Brand Ring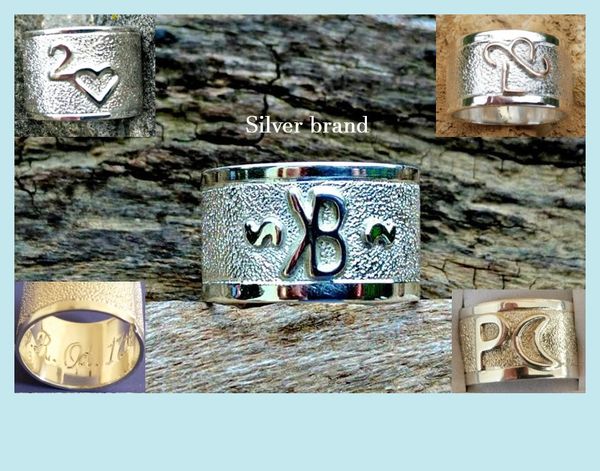 **Custom Made upon Order 
Choose half-inch or 5/8" width sterling silver band
Textured band
Engraved border along top and bottom
Overlaid with your custom brand or initials (max 3) in copper, brass, or sterling silver
The simple sophistication of this sterling silver band is an eye-catcher, and comes in your choice of 1/2" or 5/8" width with your cattle brand or initials overlaid in brass or sterling silver. This distinctive ring has a textured background which provides a touch of shimmer and shine. The line engraved border along the top and bottom flatters and compliments your design, making it pop. 
 Due to the wider band size we suggest selecting a size that is a half to one size larger than you normally wear, but you are responsible for determination of correct size.  
Please provide your brand information/description in the Additional Information box, and you can send a picture of your brand to our email at:  bluegrassengraving@gmail.com.   
An engraved inscription/personal message may be added inside the ring up to 20 characters.