Mens Custom Ranger Belt Buckle Set, Western 3-Piece Ranger Buckle Set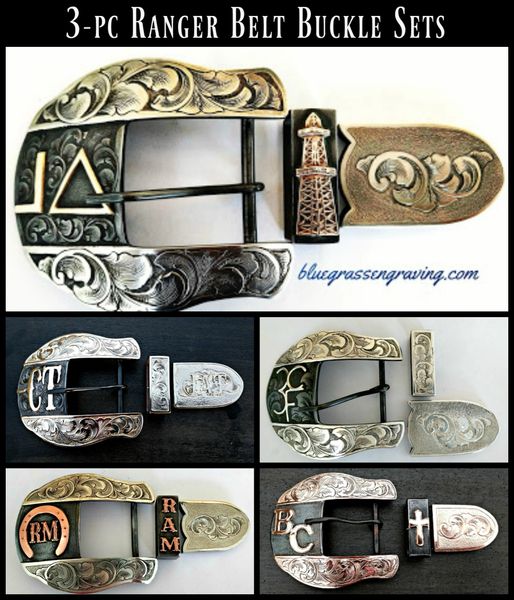 How to order: 
            Box 1: Select the shape of your buckle (see choices 1-6 in last picture. Buckle sizes are written on buckles in this picture. Buckles are made to fit a 1.5" belt.)
            Box 2: Metal overlay – choose the metal to be overlaid on your steel buckle (nickel, brass, copper, or sterling silver).  If you want a combination of metals (ex. Nickel sides, and copper brand), pick the metal for the sides here, and send a note with the metal for the brand and/or keeper in Box 3.
            Box 3: Check this box to provide the initials or overlay description for the buckle and/or keeper, and any other information you'd like us to have for your buckle. If you're having a brand put on the buckle, you'll need to email the picture or drawing to us (bluegrassengraving@gmail.com).
            Box 4: Information for Keeper – Our steel keepers come with scrollwork engraved onto the steel. If you would rather have something overlaid instead (initials, a cross, a star, etc.), please type that information here.
            Box 5: Information for Tip - The belt tip comes with engraved scrollwork. If you prefer overlaid initials, a cross, state silhouette, etc., please provide that information here.
    Box 6:  Hardware for Buckle - Options: Tongue or Hook
            Box 7: OPTIONAL – Our standard buckles come engraved with gun style scrollwork. Choose this option if you want to add relief engraved scrollwork (more of the background material is cut away, which makes the scrollwork "pop," and stand out more).
             Box 8: OPTIONAL – Choose this option if you would like to add engraved scrollwork to the area on the buckle behind your brand or initials.
            Box 9: OPTIONAL – If this is a gift and you want to personalize it with an engraved message on the back of the buckle to your recipient, click this box and type in the message in the space provided.
Email us if you need help, or have any questions! bluegrassengraving@gmail.com